A Worker Cooperative, "Laboratory, Think-Tank, Business Incubator" dedicated to solve industrial problems/challenges by Creativity, Design and Engineering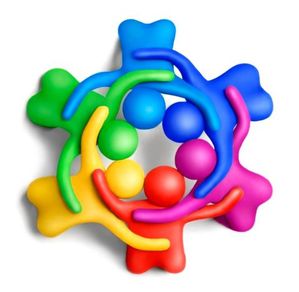 The Story
In France, but still true in every country in the world, our young graduates know endless trainings and internships, unemployment, galley, precariousness ...
Too many young graduates have heard: "You're too qualified / too much graduate", "You do not have (enough) experience!", "you're not this, you are not that ... . They are young, they have the energy of their 20's, they are very creative, they are highly-educated ... What a mess, isn't it?!
The idea is to create a "special" company that would give them their first job, therefore their first operational experience, while associating them as shareholder.
This "special" company would be a transitional stage between the initial theoretical education and the professional life. Through their passage into this "special" company, students (who will be shareholders and employees) would be formed to entrepreneurship within a framework of intellectual stimulation and value creation, confrontation of ideas and practical implementation.
This particular company will be based on the legal model of the Worker Cooperative.
This Worker Cooperative will be a laboratory, incubator for innovative projects dedicated to solve problems through creativity, design and engineering. The "Management of Creativity and Innovation" will be inspired from the famous US Design company IDEO; better than a long written explanation, see the hereafter video, it's a TV report on IDEO:
http://www.youtube.com/watch?v=M66ZU2PCIcM
Another fantastic company : Quirky
Quirky is a design-driven open-innovation company. Any individual having an idea of an innovative product can submit their ideas to Quirky. After the vote of the communty, Quirky will then conceive, manufacture and sell the product on their e-commerce website and also by other distribution channels. Quirky shares revenues of sales with its ideaters (inventors). (IDEO's clients are companies.)
Quirky Manifesto from Quirky on Vimeo.
Some ideas for this Worker Cooperative Innovation Think Thank Lab:
- We will support all stages of the implementation of innovative projects (ideation / creativity, design, prototyping, development, market research, business planning ...)
- Young graduates will work on each mission in "project team"
- We commit to preserve the diversity of disciplinary. New graduate entrants will come from all walks of Higher/College Education (humanities and social sciences, formal sciences, natural sciences, engineering sciences)
- We will accept missions from external customers (by companies or individuals), but also projects from the internal resources (intrapreneurship)
- We will encourage intrapreneurship, and assist intrapreneurs by providing all the necessary expertise and support in Strategy, Management, Marketing, Business Development, and Industrial Property
- We will support startups foundation, spin-off/spin-out from our intrapreneurs
- New entrants must be graduates of a master or higher degree (except of the Fabrication workshop resources)
- New entrants will be employees and shareholders of the Worker Cooperative for a limited duration (1-3 years), then they will leave the Worker Cooperative but they will commit to be "senior sponsor" of new entrants, and they will continue to participate on boards (Adivisory Board)
- Partnership with local University and Business Schools should be established to obtain sweet equity (interaction with Professors ..) and facilities (labs, workshop, office …)
- All the new ideas of governance and management are welcome and will be reviewed collectively by the employees of the Worker Cooperative
For example, a company wants to develop a new product and gives the study at our Worker Cooperative. The project will deliver a prototype to the company and its market research. After a first presentation of the draft to all members of the Worker Cooperative, a member will be asked to play the role of project manager and he/she will organize teams based on individual skills. Several teams can be created around the project, for example, a team of "creativity", a team "engineering", a team "marketing and finance". And of course, the creative team will be the more heterogeneous team. All this happy world would work transversely (so no rigid vertical hierarchy), this means that a member of the "creative team" can sequentially work in each teams.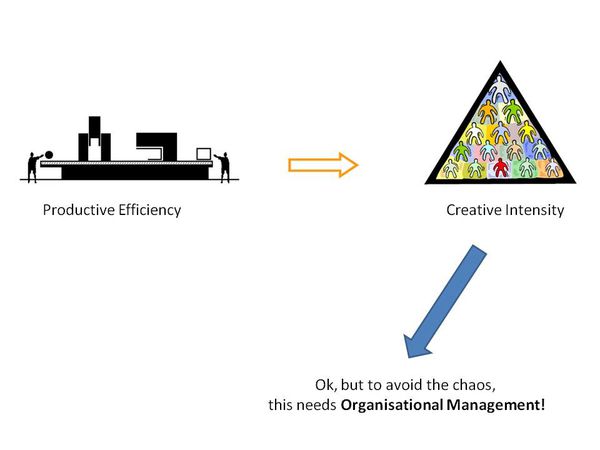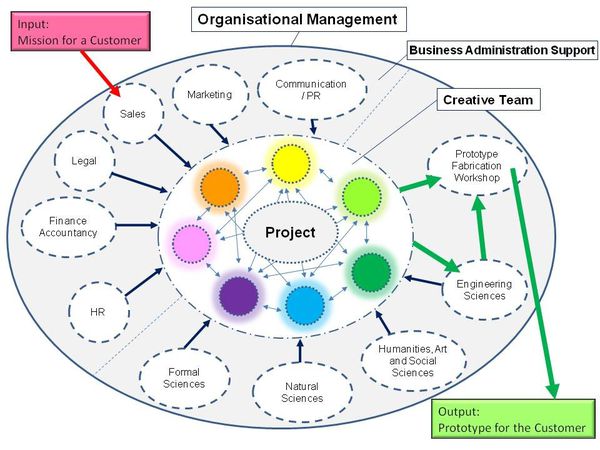 Why choose a Worker Cooperative model for a such adventure?
A Worker Cooperative is a company in which each member is both employee and shareholder, consequently, the employees hold the majority of the company's equity.
Employees elect the management team, actively participate in decision-making, manage the company. Voting at the Annual General Meeting follows the cooperative rule of "One person = One vote", independently of the amount of share capital held by each individual.
Consequently, the Worker Cooperative model introduced democracy in the governance and management of the company, place where most people spend the major part of their life! But beware Worker Cooperative is not communism!!! Indeed, Worker Cooperative, like any other business, must be profitable! And to take the long term goal of integration of young graduates, the company must not have the sole purpose for the benefit of external shareholders. Only the Worker Cooperative model could have a strategy for long-term approach, solidarity and fair.
In a Worker Cooperative, each member will benefit fairly of incomes generated by the sales of products and services (in addition to base salary), and, to ensure the durability the rest is systematically reinvested into the company.
The innovation process is inseparable from the knowledge production. Indeed, innovation cannot be done without a base of knowledge (nothing has been created from the nothingness!), and when an innovation is produced, there is systematically new knowledge produced at the same time. Consequently, organizations should consider knowledge as "capital". This immaterial capital is deeply neglected in most organization. The reinjection of the capital "knowledge and know-how" produced during the innovation process to the next innovation process is absolutely necessary to ensure the sustainability of future innovations. In Worker Cooperative, learning and sharing knowledge are actively encouraged. Indeed, Worker Cooperatives have a permanent care to implement an efficient Knowledge Management. Worker Cooperatives satisfy the individual and collective training needs of employees by offering permanent technical and managerial training programs.
Although unemployment among young graduates is a preoccupation of our governments, in practice they are powerless. Therefore, we have to invite our graduates to commit in "real" economy by co-founding this Worker Cooperative company to build our common future through entrepreneurship and innovation.
And of course, a such adventure needs seed funding:
For this campaign, we are raising $72000 (≈ € 50590). This seed funds will be a leverage to raise further capital such as
- a specific loan proposed to startups with 0% interest (in France),
- the European Union subsidies for social entrepreneurship (several thousand Euros)
- participating to entrepreneurship contests offering grants as prize
We will also ask the support of the French Federation of Worker Cooperative companies (CGSCOP: http://www.les-scop.coop/sites/en/index.html ). The CGSCOP could support us our project to Venture Capital funds dedicated to Worker Cooperative new ventures, but also support us to connect with other Worker Cooperative companies and to network with them in the goal of developing our businesses.
What are the seed funds for?
- To finance legal fees of outside advisers (lawyer, accountant, consultants) relating to the creation of this Worker Cooperative
- To finance the marketing, communication and sales (in the goal to attracted industrial customers)
- To finance the fixed costs (office rental, office equipment, mechanical workshop rental, and of course the wages of the first fellows ....)
Other Ways You Can Help
I have created a presentation page for this project on the Crowd funding web site IndieGoGo.com (the page is not yet visible on the internet as long as I do not have validate its publishing). If you wish it, I can send you an invitation to join this project on IndieGoGo, and with several possibilities :
as

Project Friend

: you will spread the word and forward this request to anyone you know who is interested by creativity, design, innovation, and entrepreneurship

We need resources in every field (webmaster, designer, sales ...), if you are also interested to join us as a Team Member, or just bring your brain as Innovation Advisor, Coach, or Business Mentor, you are welcome!

We need a breakthrough name for this "special" company, you can help us to find one !

as Customer (or Sponsor): If you are a "Small-Middle or Big sized Company", you can offer us our first innovation mission. If we have a contract for a mission, it will greatly accelerate our foundation, fund raising, and the development of our strategic partnerships