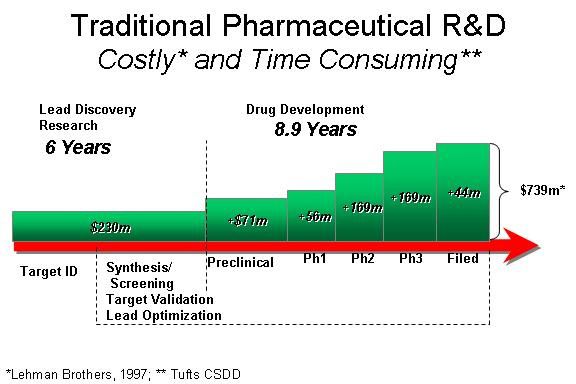 I received a newsletter in my email box in which there was a TV reportage saying:
"Cancer is finally cured in Canada but Big Pharma has no interest! The fact that the international drug & medical industry have no interest is because the cure is really cheaper than a chocolate bar and it won't get them to gain any profits at all."
Watch the TV reportage here:
http://www.youtube.com/watch?v=ZtZZR2F01ss
You are a scientist in health and life sciences, you have a discovery that could save life of people, but big pharmaceutical companies do not want to develop it? .... You don't need them!
Indeed, there is another option and you can by-pass the regular paradigm of drug development which is the licensing to/partnership with a Big Pharma. This option is to launch (with your University, Academic Research Institute and other interested stakeholders) a non-profit foundation. The mission of the foundation will be to take in charge and manage all the development process* from pre-clinical and clinical assays (and regulatory affairs, FDA ...), GMP manufacturing to the distribution of the cure to patients ... and all of this for free (with a Patentleft Strategy) or by outsourcing to distributor companies in different countries! A such foundation will greatly enhance the notoriety of the founding members, therefore, there will be a huge indirect return such as image capital, international reputation, higher international ranking of your University/Research Institute, and .... love of the people and patients !
*(For each step of the drug development process, there is numerous small-middle sized companies on which you can count to outsource the job)
The big question is: how to finance a such foundation? Every non-profit foundation runs after sponsors (big companies) and benefactors (wealthy individuals) to raise money ... and it is very difficult!
Answer: By Crowd Funding!
Crowd Funding = Raising money online by soliciting small amounts from many (the crowd) instead of a wealthy few
There is different kind of crowdfunding:
Donation/Reward-based Crowdfunding

: Donation on project in exchange of rewards (thanks, exclusive news, gifts, goodies ... everything but not money). The reward could be the feelings to support a good cause (the hope to have a cure for a disease at the end of your clinical trials), or you can also offer goods (merchandising) to your supporters.

P2P-Lending

(peer to peer money lending and borrowing)

Crowd Co-Production

: A) Bet on a project/company and get royalties on future revenues // B) Or alternatively, let your fans support your project by pre-ordering (pre-sales) your "future" product // C) Alternatively, let your fans support your project and offer them a coupon on your (future) products (this last one is in fact based on the Donation vs Reward model)

Equity-based Crowdfunding

: Micro-Investing in the equity of a privately-held company / raise funds by selling shares of your company (like classic Angel & VC investing but leveraged and powered by the internet)
1, 2 and 3 can be used by individuals or organizations including companies, for profit or non-profit projects
4 can only be used by incorporated companies.
3 and 4 are also suitable for health projects or bio-pharma startups. Indeed, if after the clinical trials, a molecule gets the green light of the FDA and can be introduced into the market, the profit could be very interesting. You can seduce people by the hope to earn money.

You might think that such kind of fundraising is not suitable for drug development due to the massive amount of capital needed to bring a molecule or a new therapy to the patients?
Crowdfunding beats records every day:
- Examples of CrowdFunding for big projects: http://0z.fr/My1Lx
- Examples of biotech startups funded by Equity-based Crowdfunding/Micro-investing: http://0z.fr/mmhYW
What kind of health projects and at which step of development, the crowdfunding could support the development of a new drug or therapy?
Any kind of health projects at any step of development (just an idea, research step, product development, clinical trials, market access or any other project) can be proposed to the crowd of the internet. The key point is the communication that you will conceive for your fundraising campaign. Are you (and your project) able to seduce the crowd? The goal of your communication will be to inform, to seduce, to engage the crowd to trust and to support your project by giving you their money. Healthcare projects and biotech-pharma startup companies can touch the heart of people, it is strong advantage.
The commercial potential of scientifc discoveries is totally underestimated and underused in most Universities even in the US Universities, world leaders in technology-transfer and innovation. There is plenty of gold nuggets hidden in the academic labs, and if the academia just waits passively that big companies knock at their doors, all these discoveries will continue to sleep in the computers of scientists and will not benefit to people. ... Academia, Be the Master of your Faith!
---
If you lead an academic research group (Director, or Principal Investigator), a startup incubator or a technology-transfer office/company, interested by crowdfunding! Contact me to discuss further ... I can help you!
---
Complementary article: http://management-of-innovation.over-blog.com/entrepreneurship-academia-technology-science.html